Press Coverage and Awards
Who we are
We understand that finding a tutor online can be a daunting prospect. We hope that the following press coverage, recommendations and awards will help to show you that we are a great website from which to source or register as a tutor.
Press
2012
In March, BBC News interviewd Anita Moss, Director at First Tutors for a piece on on 11+ entrance tuition, commenting that, "whereas 10 years ago traditional agencies would have been much more expensive, tutors can now be hired for £20 an hour" (through websites like First Tutors!)
2011
In January, The Daily Telegraph officially rated us as "respectable." Hurrah!
2010
In December, Director, Anita Moss, gave an interview to The Guardian regarding the increase in demand for private tuition from undergraduates. First Tutors noticed a trend for undergraduate tuition in subjects such as Law, Maths, IT and Economics.
In March, The Daily Telegraph recommended us in a seasonal piece about private tuition and the trend for online tuition (which we list, please contact us if you need help).
2009
In July, The Guardian recommended tutoring as an excellent way to earn a little extra from home and recommended First Tutors as a good place to start.
Also in July, The Daily Telegraph ran a piece on 10 ways to make money during the recession and recommended First Tutors for would be tutors.
Other coverage

BBC
First Tutors has twice graced a mention on BBC Breakfast television and Director, Anita Moss, has given interviews to local stations BBC Radio Kent and BBC Radio Cambridgeshire.
Print press
We have also appeared in The Independent, Cambridge Evening News, several London magazines and of course, the education press.
Recommendations
First Tutors is also very proud to be recognised by The Good Schools Guide as a recommended place to find a private tutor. Tuition agencies must undergo extensive questioning before being listed in the guide.
Awards
First Tutors has been fortunate enough to win and/or be nominated for several business awards.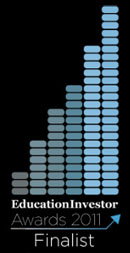 Nominated - Education Investor 2011 Awards, Supplementary Education Provider of the Year
First Tutors has again been nominated by Education Investor for an award announced in November 2011. We picked up the trophy for best supplementary education provider in 2010 and have been nominated again this year. These awards celebrate the successes of the education industry and are judged by an independent panel of highly esteemed industry experts.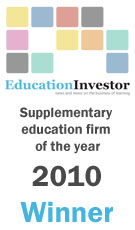 Winner - Education Investor 2010 Awards, Supplementary Education Provider of the Year
First Tutors won at Education Investor's award ceremony in November 2010. We picked up the trophy for best supplementary education provider (a category which primarily includes private tuition companies). These awards celebrate the successes of the education industry and are judged by an independent panel of highly esteemed industry experts.
Anita Moss, Director, took to the stage to collect the award and comments, "We feel delighted to receive this award, particularly given it recognises our role in education. Whilst we are considered a dotcom business our primary passion is to facilitate helping people learn, so be recognised as a strong private tuition firm is particularly meaningful.

National Finalist - Dedipower Sunday Telegraph Digital Awards 2010
Not so lucky with this one, but still delighted to be a finalist! This award recognises "young British entrepreneurs and digital excellence". First tutors was a finalist with three other businesses run by young entrepreneurs.

Winner - Best eBusiness, Big Chip Awards 2008 and Best in Lancashire 2008
First Tutors won twice at the Big Chip Awards, celebrating the best of the digital industry. Judges remarked that, "A simple, effective use of interactive media to link tutors with those needing their services, the site was clear, the business model uncomplicated and the success obvious."

National Finalist - Best Use of Technology by a Woman Under 30, Blackberry Women and Technology Awards 2008
We were almost recognised for our strong use of technology to join tutors with tutees! Oh well.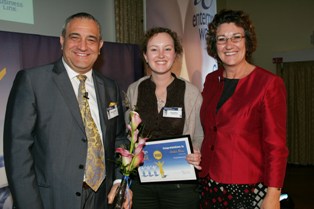 Winner - Young Entrepreneur, Enterprising Women 2008
We pick up an award for helping families to find tutors in a much more affordable way.
Regulated By
First Tutors is regulated by the Department for Business (BIS), with whom we enjoy frequent discourse as an agency with tens of thousands of tutors on the books! We are also members of the Federation of Small Businesses.


Press Resources
First Tutors: Business, newly launched in 2009, helps business trainers to promote their experience through browsable profiles. Businesses large and small use our service to find business training providers in their local area. Our original site, First Tutors: Academic is now established as the UK's leading online tutor-matching service.
First Tutors: Business offers private business training in a wide range of areas, from presentation training to sales or business writing training, there are experts within our database interested in helping clients.
Recent Coverage
We have featured in or on BBC Breakfast television, BBC Radio Cambridgeshire, The Daily Telegraph, The Daily Mail, Education Today, Mumzone, The Good Schools Guide and more. We have also won numerous awards in 2008 for the quality of our product.
Press Enquiries
We are happy to receive media enquiries and can be contacted immediately below. Anita (co-founder) has given interviews on young/female entrepreneurship, running a small business, using ICT and of course private tuition and is happy to provide an industry comment.
Prefer calling? Please do so on: 561998234844+ and leave a message - we'll get back to you quickly!